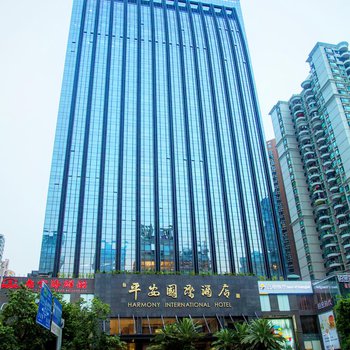 Shenzhen Yimin Ping 'an International Hotel is located in North Caitian Road, business central district, Futian District, adjacent to Shenzhen Exhibition Center and citizen Center, which is the rare place in shenzhen CBD business circle.Perched between Lianhua Mountain Park and central park, adjacent to subway Lianhua Village station, Gangxia North Station, two subway stations,there are more than 10 bus lines, the transportation is convenient, you can enjoy all the city central supportings around!
Shenzhen Yimin Ping 'an International hotel is founded by shenzhen Yimin estate development (group) co., LTD., a wholly owned investment and management of high comprehensive business type hotel,this high standards star hotel create modern design concept, with pure and fresh nature as the theme, decorate a style to modern avant-courier, design of unity of nature and art, everywhere is full of reiki, modern design art and abstract elements, makes hotel an atmosphere of nature and personality of distinct senses.
The hotel is 33 floors high, with more than 200 rooms of various types, including more than 30 characteristic suites, ranging in area from 45 square meters to 280 square meters, all rooms are equipped with advanced intelligent control system and modern facilities.The 9 types of rooms not only have different styles in the design, but also show craftsmanship in the interior decoration and color collocation. You can fully experience the unique charm of the High star Business hotel, and provide personalized and honorable service for the guests throughout the 24 hours, so you can enjoy the feeling of home.
The hotel has complete facilities and functions, including all-day buffet in the western restaurant, large multi-function Chinese food hall, conference center, luxury night club, Ping An International Water Club, fitness center, luxury shopping center, etc. Shenzhen Yimin Ping International Hotel is a great place for business travel, personal travel, entertainment and shopping.